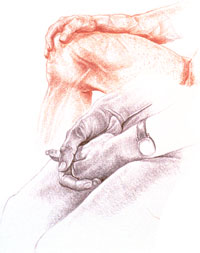 Untutored Life Drawing/Painting sessions, ideal for the Artist, Student or Enthusiast wishing to keep in practice. We have drawing boards, easels etc, but bring your own drawing materials (paper, pencils, crayons...)

You'll find us in the room on the right as you go in.
What's good about the Friends Institute Life Study Goup:
Pay by the Session (not the term)
Stays open during School holidays
Just £10
On the №50 bus route
Close to №8 bus route
Free on-site parking
Outside the ULEZ (Ultra Low Emmission Zone)
Being where the Moseley Road meets the Middleway, we're a great location for Artists coming in from all around.
For more information please contact Richard on 07905 559 167 or friendslifestudy@gmail.com
You will also find regular updates on our Facebook page.

...And here's where we are: